He was employee #3 at Freshdesk. Now he steps off stealth to take on SurveyMonkey
October 17, 2017
---
Shihab Muhammed quit India's SaaS (software-as-a-service) pioneer Zoho in October 2010, on the same day as Girish Mathrubootham did. Their simultaneous exit was just a coincidence. But when Mathrubootham learned that Muhammed was on his way out, he reached out. Two months later, Muhammed joined Mathrubootham and his co-founder Shan Krishnasamy to build customer support software Freshdesk. The product launched on June 10, 2011, got its first customer in four days, and Freshdesk went on to raise US$94 million in venture capital. Since then, it has grown into one of India's best known SaaS successes, Freshworks.
Nine months ago, Muhammed – employee number 3 of Freshworks (better known as Freshdesk) – quit after diluting his shares during its series D and E rounds of funding from Capital G, Accel Partners, and Tiger Global. He has been on stealth mode since then, building an online survey tool that makes a questionnaire more conversational. The product under wraps so far, SurveySparrow, launched today.
"I used to dread the monthly employee satisfaction surveys. I used to fill them up grudgingly after multiple reminders from the HR despite knowing how important these surveys are to manage an organization well. But if any of my colleagues messaged me over WhatsApp or Google Hangout, I was always quick to answer all questions," Muhammed explains what got him thinking about a tool to make surveys less of a chore. "Why can't surveys be as simple and fun as chatting, I asked myself."
Muhammed teamed up with his college-mate Subin Sebastian, another ex-Zoho engineer, to build SurveySparrow: "a conversational survey that I could attend with the comfort of my smartphone, when I was stuck in traffic or waiting in a line."
See: SaaS superstar Girish Mathrubootham on ambitions, fears, and secret strategies
The survey jungle
Every company out there wants customer and employee feedback, so the survey market is huge. SurveySparrow will have to fight a few giants to find a footing.
Like SurveyMonkey, for example. The 17-year-old company has raised US$1.15 billion in funding and claims to handle over 3 million survey responses every day.
"We make the experience more chat-like and conversational with higher survey completion rates at SurveySparrow," claims Muhammed. According to SurveyGizmo, internal surveys will have a 30 to 40 percent response rate on average, while external surveys clock 10 to 15 percent.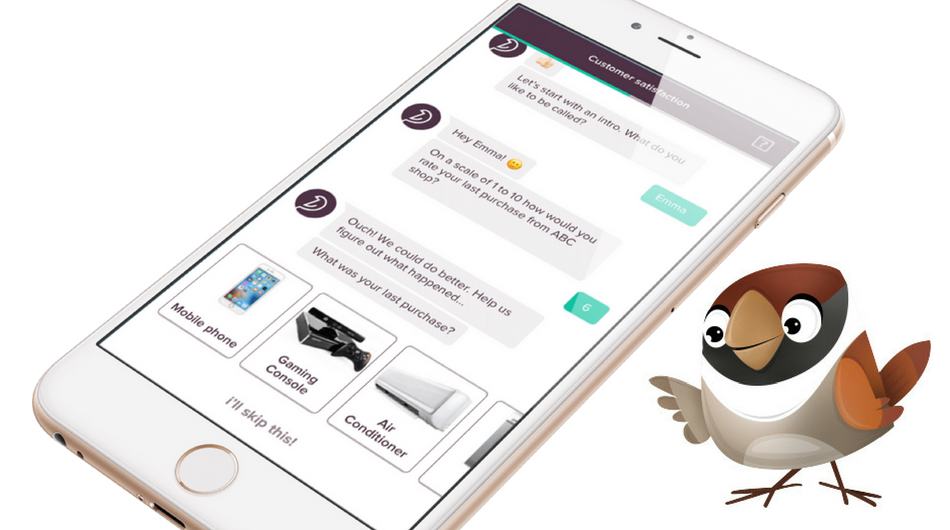 Qualtrics is another big player valued at US$2.5 billion, with a warchest of around US$180 million raised in April. The company is "on track to do more than US$250 million in revenue" and profitable, according to founder and CEO Ryan Smith. "We just refuse to not be cashflow positive," he told Fortune recently.
Closer to home is Chennai's CloudCherry, which arms companies with tech tools to track, measure, and improve customer experience. "From setting up questionnaires, discovering insights, integrating with other business tools, and scaling to multiple geographies – CloudCherry does it all in real-time," co-founder and CEO Vinod Muthukrishnan had told Tech in Asia earlier this year. The company raised US$6 million in series A funding a year ago.
The online survey market clocks around US$2 billion in annual revenue, industry reports say. According to Technavio, the prominent software vendors in the space include Campaign Monitor, Getfeedback, Inqwise, Medallia, QuestionPro, SoGoSurvey, SurveyGizmo, Toluna, and Zoho.
"The tools available in the market today only let users deliver surveys online, while still retaining the structure and format of the age-old physical survey forms. Surveys have to be re-imagined for today's messaging-first, mobile-first world, and that's what we've aimed to do with SurveySparrow," Muhammed says.
Imagine you want to run a monthly survey to measure employee happiness in your company. "With other survey tools you need to manually send a survey every month. SurveySparrow has built-in automation," Muhammed says.
SurveySparrow has a subscription-based revenue model and has priced its product lower than SurveyMonkey and Qualtrics.
He says a lot of VCs have already approached him to invest in SurveySparrow. "But I told them, 'At this point, I don't want your money to run any experiments. When I am ready to scale up, I will come back to you.' I could say that only because of Freshdesk. I could invest my own money, from the stock I diluted in the last two funding rounds there."
See: The unfair advantage Indian SaaS startups have over counterparts around the world
Muhammed believes that thanks to Freshdesk, he knows the cogs of the wheel that a SaaS business runs on. "I have had end-to-end visibility of running a SaaS company and that's invaluable."
India has a thriving SaaS ecosystem, where pioneers and leaders like Zoho and Freshdesk have shown the way to take advantage of relatively low-cost development to provide cloud-based software to global clients. From managing a product cycle to fine-tuning inbound sales, newly launched companies like SurveySparrow can hit the road running with an experienced talent pool.
The main challenge Muhammed sees ahead of him now is to get into potential clients' periphery of vision as soon as possible. SurveySparrow has had around 300 users trying the tool in private beta so far.