Behind every successful product, service, advertisement or campaign, there is…(drumrolls)… a survey software and thus, surveys or forms.
It brings answers to questions like;
What do the customers exactly want? The price are they willing to pay for it?
What more are they looking for in our products/services?
Things we'll cover in this blog:
Jotform and Google Forms—Both are adept at getting the intended results, but when it comes to the Jotform vs Google Forms question, the choice is tough.
Jotform vs Google Forms — 8 Points Of Comparison
Wow, the heading looks like we'll talk about an epic boxing match. Tyson vs Hollyfield, Mayweather vs Pacquiao, Fury vs Wielder. You get the idea. However, in the world of survey software, both Jotform and Google Forms are big-name heavyweights, having features that outweigh one another.
| | | |
| --- | --- | --- |
| | Jotform | Google Forms |
| Pricing & Plans | Comes with both free and paid plans with enhanced features in each tier | Completely free |
| Templates | 10,000 templates | Just 20 templates |
| Form Designing | A plethora of widgets and elements to choose from. Requires time to go through and choose | Very limited options, but the form designing process is faster |
| Integrations | 100+ integrations | Images, documents, and vidoes. The only 3 integrations to choose from |
| Team Collaboration | Comes with viewing, commenting, data management, and host of other team collaboration options. | Limited to only editors |
| Mobile App | Yes | No |
| Analytics | Very limited options | Using google sheets and data studio, powerful analytics can be done |
| Other Features | PDF editor, form QR codes, HIPAA compliance, CAPTCHA, and more | HIPAA compliance and CAPTCHA only |
People are constantly searching for terms like Jotform features and Google Forms features to understand how to best use them, and Jotform vs google forms to know which is better. Now, Jotform vs Google Forms is a difficult question, but we have the answer through a detailed comparison between the two. And with no further ado, we'll start.
1. Pricing & Plans
The first point of comparison is pricing and plans. Let's start with Jotform first:
Jotform
With Jotform's free plan, you get to create 5 forms, have 1000 form views, and 100 monthly submissions.
You get a 100 Mb space and some cool features to try. That is great for testing the waters and seeing if Jotform is the survey software for you.
If the answer is yes, the paid plans start from $29 and go up to $99 per month, giving all Jotform features, more templates, space, and endless submissions.
Google Forms
Google Forms is the OG here.
Like other Google suite products, all Google Forms features are free forever, although the Google Forms logo remains on your forms.
There are no premium plans in this tool.
You won't pay a single dime to create forms, questions, and responses using Google Forms. All this with no ads constantly seeking your attention and click. How good is that?
Here's a Jotform alternative/Google Forms alternative that's friendly on the pocket and feature-rich — SurveySparrow.
Create surveys in seconds with our seamless survey builder and gain access to 500+ Free templates. 
Sign up for FREE here…
14-Day Free Trial • No Credit Card Required • No Strings Attached
2. Templates
The next round in the Jotform vs Google Forms matchup is templates.
Jotform
Jotform has a crazy library of 10,000 templates, arranged in categories so people can find them easily. But look at their sheer number. 10,000 templates!
Wow, we'll definitely get our dash of decision paralysis here. The categories like questionnaires, feedback, payment, and membership forms help select an appropriate template, and each one of them has editable questions and options based on the topic.
Still, there are plenty of templates to wrap our heads around in each category. So, choosing one ain't that easy.
Like the templates, Jotform comes with hundreds of themes arranged for all categories. Not all are free, as the pricing begins from $1 and goes up to $19.99 for a single theme. But who doesn't like having options? Also, for new folks, these pre-built themes are a massive time saver.
Google Forms
Google Forms have templates, but just 20. You'll find these in the events, invites, and feedback form categories.
So, you don't have much to choose from when it comes to Google Forms which leads to faster form creation.
But in a world driver by visual appeal, this form builder from Google doesn't offer many aesthetic choices.
Source: Zapier
Similar to their limited templates, only a few themes are available in Google Forms. You can view them once while opening or creating a form. Choose from primary colors, four font types, and a custom image as a header for making your theme.
3. Form Designing
Next, we talk about the form designing process in Jotform and Google Forms.
Jotform
Jotform gives you a plethora of options for designing forms while also making sure that you do it quickly.
They have a variety of widgets and elements that your team can include, like a widget for a calculator, scale ratings, YouTube, and more. The same is with their fonts and integrations, too.
Now, Jotform's drag and drop builder lets you choose from all options and create forms swiftly. So, more options with increased pace. Amazing.
Google Forms
In Google Forms, the form designing process is clutter-free and quick. There are essential question types like multiple-choice, linear scale, and checkbox right at the top of the question type section.
Similarly, for widgets, font types, and integrations as well. The options are limited, restricting the variations you can bring but allowing for faster form creation.
4. Integrations
Integrations with other apps and software are an essential feature for any survey tool. Time to see how Jotform and Google Forms do here:
Jotform
Jotform provides integrations with prominent software and service providers like payment processing software, CRM and project management tools, video hosting apps, email automation tools, and… phew!
There are so many integrations that you should search for them here.
You'll likely find what you're looking for. And adding these integrations requires simply dragging and dropping them in your forms.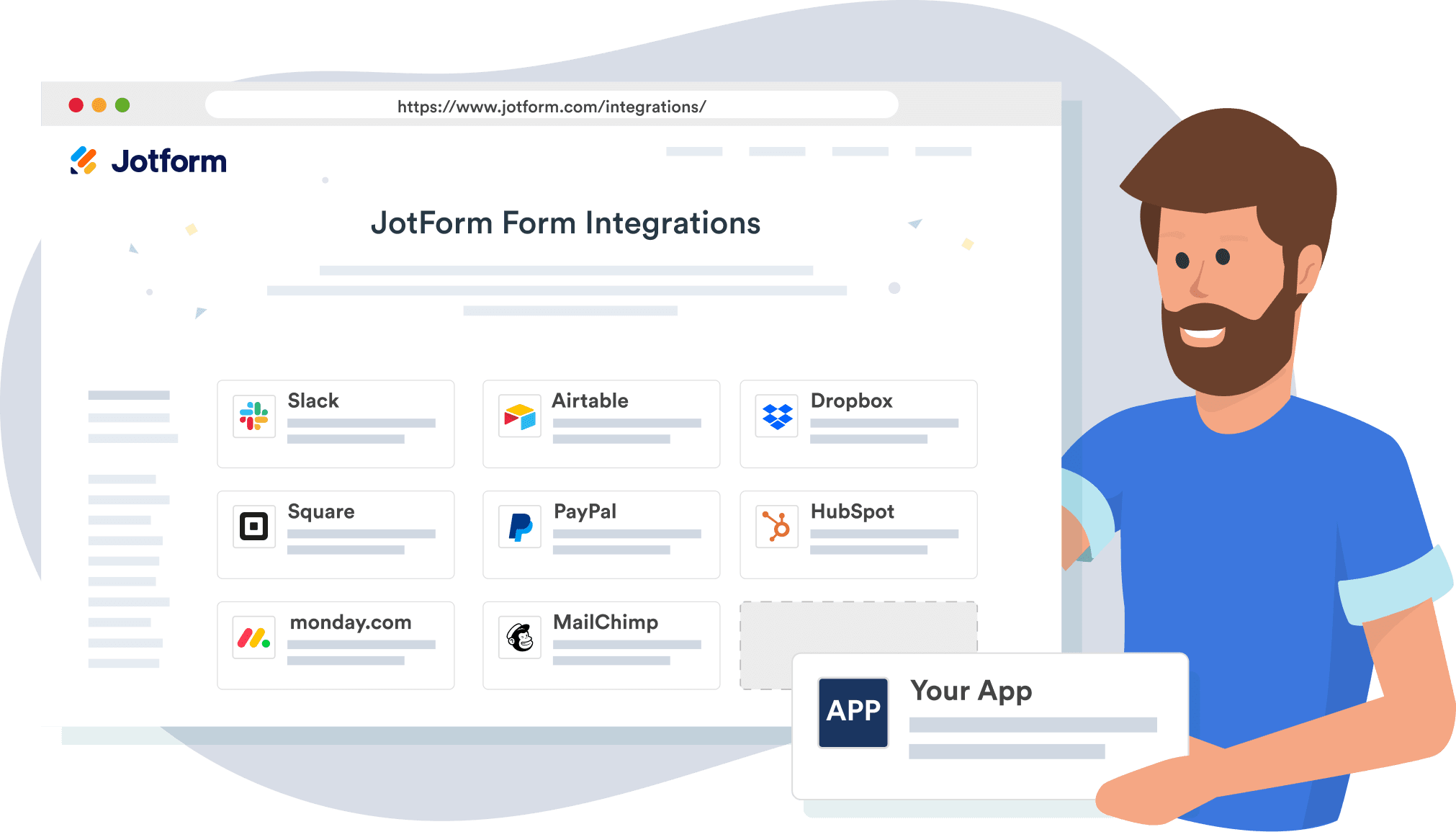 Google Forms
You can add images or documents from the drive and attach YouTube videos, but that's about it. Like the limited Google Forms features, the integration options are limited, too.
5. Team Collaborations
Let's see how they both perform over team collaboration features.
Jotform
The team collaboration features have been a massive priority for Jotform in recent times, especially in the pandemic's wake. Now, you can assign forms directly to employees who can manage these forms on any device, even offline!
Similarly, your teams can create a contact form that syncs with new leads into CRM like Hubspot, Salesforce, or more using easy integrations.
Also, Jotform lets your teams manage the data through its tables and inbox features. Jotform, with all these collaboration features, has staked a good claim in the Jotform vs Google Forms question.
Google Forms
Collaboration in Google Forms is not as impressive as in Jotform. Sure, you can add collaborators, but the only permission it gives is to Edit.
It does not support comments and has no view-only option. Even when you add collaborators, there's no notification and record of changes made in the form.
That makes it hard for team members to stay on the same page without poking each other from time to time. And the sole point of collaboration in a survey tool is to eliminate constant communications and meetings between teams.
Google Forms don't help here.
6. Mobile App
Time to see if both these survey tools have mobile compatibility or not.
Jotform
Jotform is excellent when it comes to mobile responsiveness. It has a fantastic android and ios app for accessibility through your mobiles.
You can create forms, integrate other apps, choose sharing options, and directly send forms through its app.
Before the pandemic, web versions of survey software were enough, as teams had access to their laptops and systems almost all the time.
But in the pandemic's wake, accessibility through all devices became necessary for consistent work. And Jotform made work a lot easier through the app. Maximum points to them for that.
Google Forms
It doesn't offer a mobile app, i.e., no android or ios version. You can only access Google Forms through its web interface.
Are you as gutted as we are?
Survey software with no mobile functionality is like desserts, but with no sugar. In the day and age where mobile apps are a big hit, Google Forms don't have any.
We hope this changes going forward, but as of now, you can access Jotform and its features from both an app and the web version. For Google Forms, only the latter option exists.
7. Analytics
Time to see how the analytics features of both these tools are:
Jotform
Analytics is not the strongest area for Jotform. Yes, it has different graphs or charts to choose from, but this is it.
There are no specific features to do powerful, in-depth data analytics in Jotform.
Google Forms
There are no analytics features inside Google Forms, but Google has a suite of mind-blowing products that do this job. You have to send the collected data to google sheets to prepare custom charts and graphs.
Pivot tables and the explore option can be used for in-depth analysis. And for better visualizations, send the data to google data studio and see the magic!
8. Other Features
Lastly, let's look at some other features of both Jotform and Google Forms.
Jotform
From Jotform tables and inbox to its report builder, there are many other notable Jotform features.
One such that stands out is its PDF editor, which converts all forms into PDF files for easy editing and sharing. P
lus, they offer the much-needed HIPAA compliance for the healthcare industry, an electronic signature feature, and allows for unique QR codes for separate forms.
Google Forms
Google Forms come with CAPTCHA and HIPAA compliance, but side features are limited here. Google Forms support conditional logic, but the option is not apparent, making it harder to use.
So when it comes to other features, Jotform has a slight edge, we would say, in the Jotform vs Google Forms question.
Jotform vs Google Forms — Final Verdict?
It's pretty evident. If your survey campaigns can do with the limited features, templates, and integration options of Google Forms, go for this free form builder. It's a terrific option for smaller teams and those just beginning with their survey game. Their analytics is powerful enough to bring out relevant information, too. Also, the perk of having limited options is that you create forms fast with google forms.
For survey campaigns targeting specific results, your team needs attraction-seeking surveys that are beautiful to see. Including its paid plans, Jotform offers more features and options than Google Forms. But that's the point… you have to spend to use jotform in the best possible manner. Therefore, choosing a winner from Jotform vs Google Forms depends on your use case and how much, or if, you're willing to spend.
To find your use case and how well both tools are suited for it, give Google Forms and Jotform's free plan a try. Here's an at-a-glance comparison of the 8 aspects we talked about:
SurveySparrow — a better Jotform Alternative
If you're looking for the best of these tools, SurveySparrow is what you need. Here's why we're saying that:
1. Freemium Plan
SurveySparrow's plans are better than Jotform's. Period. The number of monthly submissions in its free plan is similar, but look at the features SurveySparrow offers in the free version.
It's simply mindboggling! Even in the paid plans, Jotform doesn't have the features and variety of products better than SurveySparrow.
Also, the pricing plans of SurveySparrow are much more diverse, cheaper, and suitable to your needs compared to Jotform.
You get four different categories of premium plans in SurveySparrow, i.e., personal, business, NPS, and 360-degree assessments. And the plans in three of these categories are built to give maximum value for your buck. Plus, there's a free trial, too. Can you believe it?
2. More Than A Form Builder
The question of Jotform vs google forms is a question about the best form builder. What if you could get all features from these plus more?
Basically, a one-stop destination for all NPS, feedback, market research, employee 360-degree surveys, and more. SurveySparrow has a fully-efficient solution for all that.
3. Conversational Interface
Google forms severely lack here, and Jotform can do a better job. They both don't have a quality interface that keeps the audience engaged and give a better conversion rate.
SurveySparrow takes pride in excelling at surveys with a conversational interface. It offers a highly engaging survey experience that boosts the survey completion rate by a whopping 40 percent. Try it, you'll see.
4. Do Everything At One Place
With SurveySparrow's employee 360-degree assessment solution, your teams get to create customizable employee 360 reports and emails.
They can conduct appraisals and performance reviews from the same dashboard, track assessments in the employee portal, and create custom 360-degree feedback surveys. The start-to-end solution in one place. Fantastic, isn't it?
5. Chatbot
All of Jotform's and google forms features are centered around creating forms. That's right, just forms. There's no other way to collect audience data using these tools other than forms.
With SurveySparrow's in-house chatbot – Feedbot, you collect prospect data directly from the website. In 2023 and beyond, this is a massive capability to have.
6. Analytics & Collaboration
SurveySparrow fits the requirements of teams of all shapes and sizes. Enterprises get the right analytics tool and collaboration features. Small teams get valuable features at the right price. And for solopreneur's survey requirements, too, SurveySparrow does the job.
Jotform has brought good collaboration features only after the pandemic's wake, and google forms is still the same, with the same minimal collaboration and average analytics feature. So in the contest of Jotform vs google forms, we'll not be surprised if SurveySparrow is the winner!
Choose, Build, Survey!
That's it. The reading part ends here. Now, you gotta choose a survey software that fits the bill perfectly, build the first form, and start surveying. You'll keep learning about the software of your choice along the way, but real-time learning happens from real-time surveys. So, do that. But let us know how exactly Jotform or Google Forms (or SurveySparrow ;)) made your life easier and the survey campaigns successful. Ciao.